How Much Does It Cost To Build A Mobile App In 2021?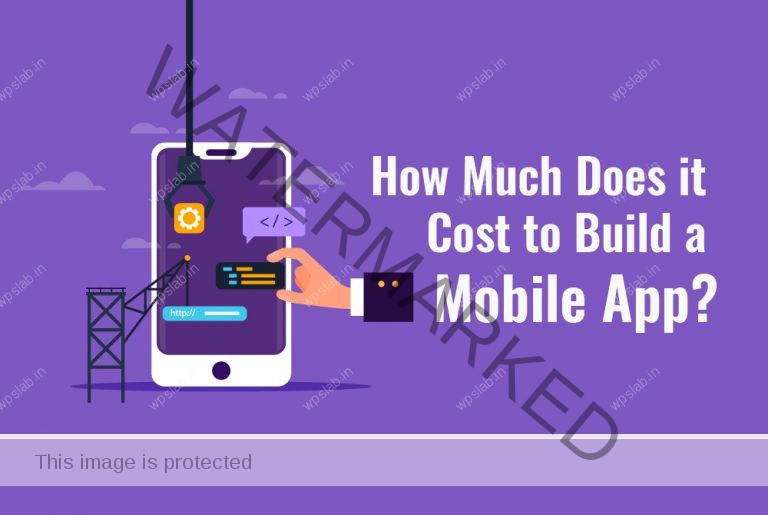 Mobile app development companies are flourishing today, especially with the advent of digitalization; it has become more crucial than ever for businesses to switch to mobile apps to boost their brand awareness. From booking a cab, reserving a table, chatting with friends, ordering food, booking a ticket, and other endless things, the mobile app solution is the only thing that comes to mind because it eases our life.
According to Statista, the number of smartphone users worldwide is estimated to exceed $3.8 billion users by the end of 2021, and in India, it is estimated to reach above $760 million. Of course, with the rising number of smartphone users, the mobile app demand will rise as well. This is a clear indication of why businesses must develop mobile apps by app developers to provide comfort and exceptional user experience.
Let's look at the worldwide mobile app downloads and consumer spending for the past 5 years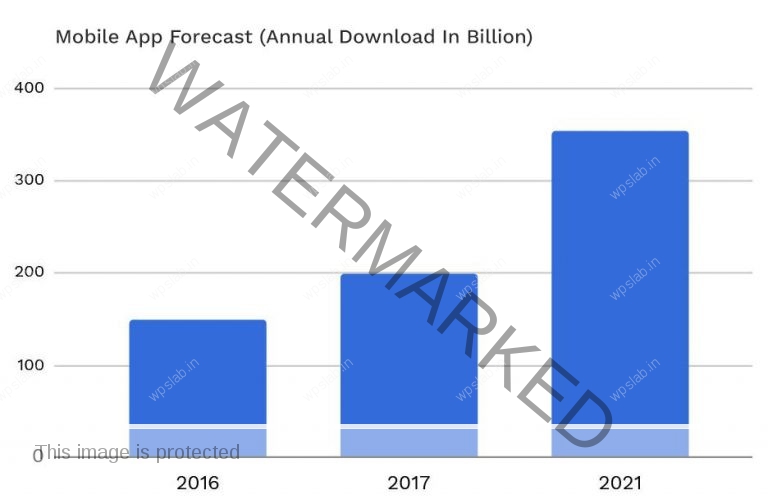 This chart represents that the mobile app downloads are expected to rise dramatically from 2016 to 2021 from 149.3 billion downloads to 352.9 billion in 2021 over the 5 year period with a CAGR of 19%.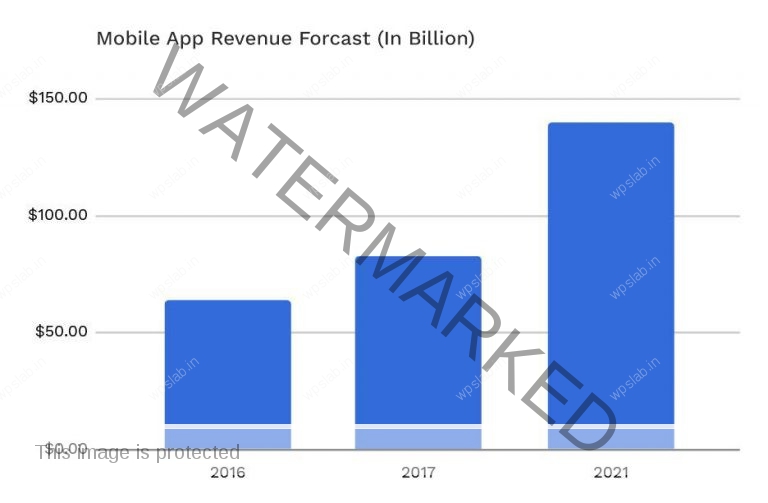 This chart shows that mobile app revenues are expected to rise significantly from $61.8 billion in 2016 to a whopping $139.1 billion in 2021 over the 5 year period with a CAGR of 18%,
Startups always ponder over-estimating the right app development cost. Superior-quality and reduced cost are two main things businesses look for when outsourcing a mobile app development company. The mobile app development cost widely varies, and that depends on various factories. This is what we can tell from our years of experience in creating mobile apps for our small-scale to large-scale clients.
In this article, we will share some ideas about how mobile app development costs work. There is no fixed cost for mobile app development, and all depends on the businesses' needs and the complexity involved.
Before we move to look at app development cost for 2021, it is essential to know the significant benefits it offers to make the right decision.
Significant Advantages of Mobile App for your Business in 2021
1. Brand Recognition
The mobile app has become essential for your brand. It represents your brand and hence, must stand out. Easy navigation, attractive design, engaging functions, and the information provided can make your app stand out. The user-friendliness and layout of your app will determine your customer relationship. The more appealing the app becomes, the more likely it is to draw users, shop products, and services. Hence, your brand will gain tremendous recognition with mobile apps.
2. Competitive Advantage
Research shows that several businesses have not yet developed mobile apps to date due to the resources involved. Hence, building a mobile app will give you an edge over your competitors. But you must remember, developing a mobile app for your business will be time-taking and a costly affair. However, creating one will engage your users even more since it offers them comfort and convenience.
3. Reduces Marketing Cost
Compared to conventional advertising and direct marketing, sending notifications via the app is comparatively cheaper. Announcement of an event or launch of a new product or service is much affordable with mobile app development. It also helps both the users and brand to come closest to each other.
4. Enhances User Engagement
Several users use mobile apps as they facilitate them to connect with your business quickly. Companies are using mobile apps to enhance the processes and boost the accessibility level their users have. Mobile apps are the most valuable tools in today's competitive era.
5. Best Social Media Platform
Today's generation is obsessed with social media. If you want to be updated about everything, you should be on these social media platforms as well. Hence, having a mobile app on such online platforms will give them a chance to discuss your products and services. People spend ample time on social networking sites, and mobile apps are the future of social media platforms.
6. Loading Speed
Mobile apps usually load faster compared to websites. Several aspects of the apps are usable even without an internet connection. It is possible to deliver outstanding results effectively and quickly through a mobile app in today's era.
7. Great Offers & Support
Mobile apps offer several deals and discounts to attract potential users to your business. Ensure to create an irresistible offer and notify about it via your app. To promote your business and leverage benefits quickly, you must have a mobile app.
Customer support is another critical factor that your business must look upon. Answering customer questions and resolving doubts will get much easier with the mobile app.
Why Should You Invest In Mobile Apps?

Today, people are using mobile apps to stay connected to their favorite brands. Whether smartphone or tablet, mobile apps offer valuable information to potential users easily. No matter your business, mobile apps help attract new users while retaining existing ones. Hence, being available 24/7 will boost your business significantly. Below are some reasons for your business to invest in mobile apps.
– The world has switched to digitalization. Everyone uses smartphones and hence, mobile apps. Users utilize mobile phones for local search, and online marketing efforts are witnessed via different mobile platforms. Having a website online is not sufficient in today's cut-throat competition. Mobile apps are growing, and you can gain apple opportunities by investing in one.
– With mobile apps, you can curate your products and services in a better way. Your TA can use your app as one-stop solutions for making purchases. Mobile phones have become a new tool to chat with friends and family, check services, buy products, and much more.
– Investing in mobile apps will enhance the level of professionalism. The benefits of mobile apps are even more when a business decides to build a personalized mobile app that offers more features and flexibility.
By now, you know that a mobile app is the essence of marketing strategies, and it can do wonders to boost your profits.
However, it is not just that simple to develop a mobile app for your business. It requires thorough research, intense planning, and proper execution to develop a mobile app.
Your mobile app's cost will depend on all the above factors and features that you decide to include in your app.
But before you decide to develop your mobile app, you must first consider the right platform for your app, considering your TA and the right monetization strategy for your app.
What Is The Right Platform For Your Mobile App?
You must assess the right platform for your app before developing one. There are 4 platforms to choose from while developing a mobile app: App Store, Play Store, Amazon Store, and Window Store. Of them, the most common ones we all know are Apple's App Store and Google's Play Store.
Factors to consider before choosing the mobile app development platform
1. Target Audience
It would help if you considered your TA before you choose your mobile app development platform. Conduct some research and create your customer profile. Consider the geographical location as they are essential factors as well. For instance, if you want to focus on Europe, you should know that most Europeans prefer android devices over the iPhone, while Americans use both. And the situation in Asia may vary from country to country.
2. User Behavior
User behavior varies based on the OS and location. If you build a free app, it might be unnecessary for you to know where people are willing to buy apps and make in-app purchases. Android users tend to use free apps, while Apple users are more likely to spend money on apps.
3. Features
Consider the essential features & user experience to compare them with the abilities of a certain platform. To develop a custom app with a native look and feel, iOS, Android, and WP are the right solutions for you. Native apps always perform the best. They are top-rated for usability and render a high-quality experience.
But if you want the one-size-fits-all approach, consider a cross-platform development for your project. But you should keep in mind that not all features supported by the native app will be backed by cross-platform development too.
4. Device Support
Android supports 160 devices. Android aims to increase this number, while Apple has a different strategy. Apple's iOS 9 supports 15 devices, including various versions of iPhones, iPads, and iPods. Windows Phone 8.1 works on 100 devices currently, while Blackberry supports only 10. While the last two OS are totally isolated, even Whatsapp refuses to support them. Hence, you will need to adapt all these together while building a cross-platform app.
5. Moderation
iOS apps are strictly moderated. Apple has a set of rules that needs to have adhered to for app submission. If not, the app will be rejected. One can find the App Store Review Guidelines, too, on their official website. For example, an app that crashes or contains empty iAd banners won't get accepted. Apple takes up to 10 days to examine the app and either app or reject it during submission.
However, the same can't be said for the Play Store. Despite having a set of rules, this market is drowned in rumors of plenty of piracy apps. It has a weak moderation system. A user can also easily download a .apk file of any app and download it onto their device. However, a similar scheme won't work with Apple.
6. User Expectations
Users have some expectations from apps on their devices based on the platform. To satisfy them, you must take into account those expectations. For example, Apple is famous for upscale innovations and quality. Apple's followers are loyal and committed to their services and expect to experience high-end usability and creative design from the apps they use. Therefore, they are ready to spend when it comes to innovations. On the other hand, android app users are reluctant. They are hesitant to spend on the apps or in-app purchases.
What Is Your App Monetization Strategy?

This is another thing to ascertain before developing a mobile app. The sole purpose of any business is to make money. Speaking of app development, your business can charge for app download and make money from it. But will the users download the app if it is chargeable? Research says that most of them prefer to use it for free. The fact is over 98% of global revenue comes from free apps. And 90% of apps on the market are free.
Deciding to sell your app can be a challenging task. Several options are available, including free apps vs. paid apps, in-app ads, in-app purchases, and freemium models. All you need to do is choose the right model that suits your business and solves the purpose.
Difference Between Free And Paid Apps
| Free Apps | Paid Apps |
| --- | --- |
| Attract more users and increase visibility and installs. | The paid ones have fewer installs and loss of potential clients unwilling to pay. |
| These apps are a great way to enhance your app on the app store to get good reviews. | Users have high expectations since they are paying for it. You must make sure it works flawlessly. |
| Unlike Paid apps, free apps are less expensive as they are not complicated. | The app development and design of paid apps are somewhat high. |
| Free apps have various monetization possibilities. | Limited monetization possibilities. |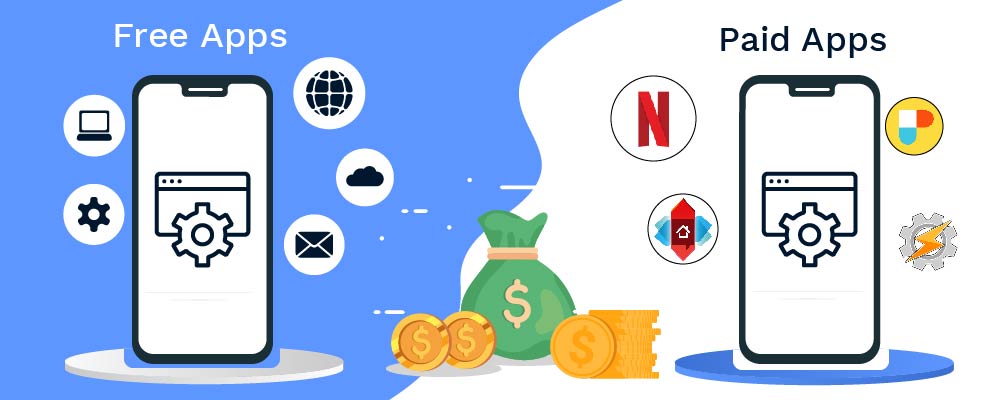 How Do Free Apps Earn Money?
– Advertising: interstitial ads, banner ads, in-app video ads, native ads, and rewarded apps.
– Subscriptions
– Selling merchandise
– In-app purchases
– Sponsorship
– Referral marketing: Cost per action, cost per click, cost per view, and cost per install.
– Gathering and selling data
– Freemium upsell
– Physical purchases
– Transaction fees
– Crowdfunding
Tips To Choose The Best App Monetization Methods
1. Focus On The App Type
You must understand the app type before deciding the monetization models. Once you know your purpose, you can choose the best monetization method for your app on the app store—for instance, the subscription method for content & service apps.
2. Competitor Analysis
The competitor analysis is for functionalities, features, and design of an app. You can easily discover the monetization methods for your app with a thorough study of your industry. Question yourself, like how competitors are earning money? Is there any drawback that can become your strength?
3. Know Your TA
You need to deeply study your target audience to gain revenue from app monetization techniques successfully. For example, who are they? What do they demand? What are they ready to pay? Users must know the real value to make purchases.
These are some points you need to consider before choosing your app monetization strategy.
Now, after looking at the mobile app's ample benefits, the right platform to develop your app, and the best app monetization strategies, we are finally at the stage to discuss the cost of mobile app development in 2020.
Cost Of Mobile App Development In 2021
Before moving forward, it is essential to note that there are stages to assess development cost.
– Pre-development Stage (Research)
– Development & Design Stage
– Testing Stage
– Post-development Stage (Marketing & Maintenance)
Pre-development Stage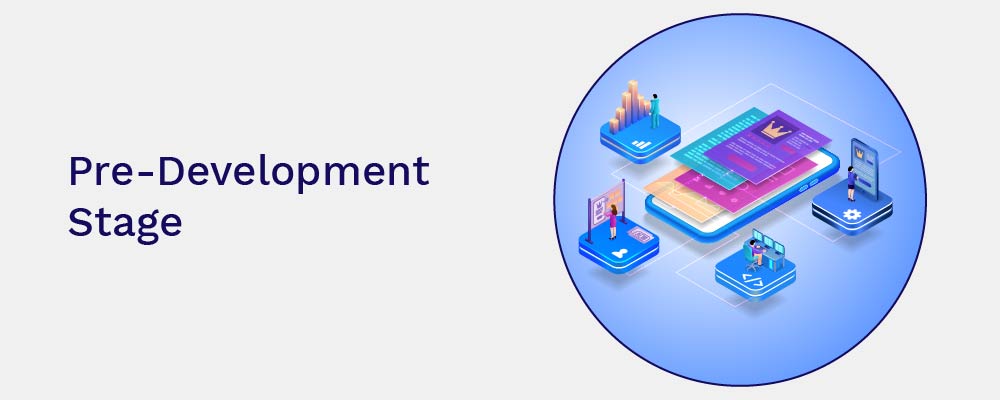 Conducting market research is vital to know whether to develop the app or not, get good ideas on app development, know your TA, competitor analysis, SWOT analysis, and finally build a business plan.
Development & Design Stage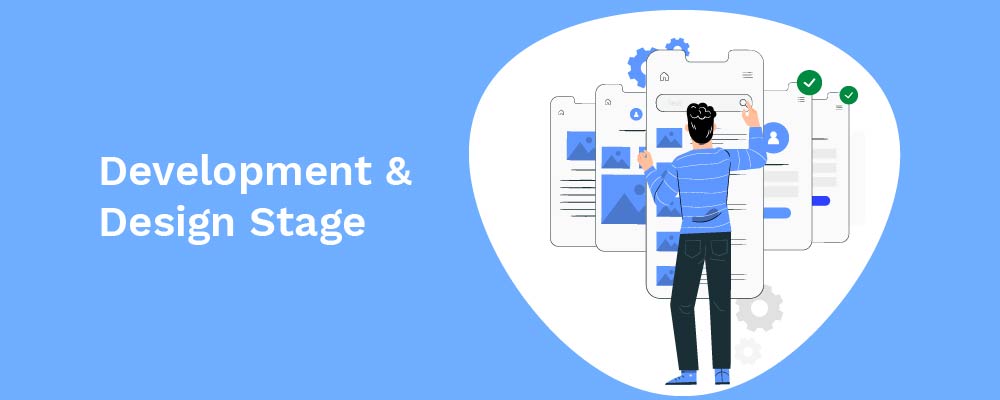 Total development time * Hourly rate = cost
The approx cost here ranges from $8k – $20k. This cost applies to the project that lasts for 4-6 months, and the development & design stage is considered 3-4 weeks.
The cost may vary based on the complexity of the project.
UI/UX design
Design is a vital part of a mobile app development process to increase user engagement and motivate them to take action.
Before going to the app development stage, it is essential to complete the designing part to ensure the app functions smoothly with the different design elements.
For app design costs, it starts at $8k for 13-20 screens. The app design prices differ as per the no. of app screens, design complexity, and the use of using visual elements.
App Development
This is the most crucial phase of the app development process, where cost estimation is a challenging task. Because as the project continues, the client demands to develop & integrate more advanced features. The more complex the features, the more budget is required to create the app. The app concept and app type also play a significant role in determining the app cost.
Following are the most common features of the mobile app:
– Login/Logout
– In-app Search
– One-to-one Chat 
– Push Notifications, etc.
This is a simple app type. Now talking about the complex app functionalities requires smooth audio & video streaming, a robust connection with the admin panel, and more. Complex features are costly but are investment-worthy.
Factors that influence price:
1) App Development Team
Depending on the app's complexity and requirements, your app development team will include recruiting a business analyst, UI/UX designer, one or several developers, a project manager, and a quality assurance engineer.
2) Technical Complexity
The mobile app development cost is not determined based on only the developers and hourly rate; the technical complexity also plays a significant role. In a nutshell, more complex features consume more time and hence more number of developers to develop it.
Let's see the different complexity divided into 3 broad categories:
Basic Apps: These apps do not need remote data servers. Such apps include diet planners, calendar apps, and the cost ranges somewhere between $5k – $10k
Mobile apps with web servers: These apps save data on remote servers and need more sophisticated programming. The app development cost here ranges between $10k to $50k
Gaming Apps: It is tough to define these apps' prices because they include apps with simple features up to those that use complex virtual reality. A wide estimate of the cost of such apps would be somewhere between $10k to $250k or higher.
3) Backend Development
This is another factor that influences the mobile app development cost. Launching a dynamic app requires exchanging massive data in real-time and synchronizing all the platforms alongside cloud updates. In such a scenario, you need a backend solution to handle significant data and work flawlessly in any condition. This means you need more time to develop and design a complex app infrastructure. You even require multiple programming languages to form your mobile app's backend development. This means you must pay a considerable amount of price to engage with a team of experts.
4) Third-Party Integrations
Due to the fast-paced technological evolution, there are numerous third-party integrations available to choose from.
Although such third-party integrations can help accelerate the development process, several third-party tools come with intricate documentation. This can result in extra time to learn to integrate into your app.
Most premium 3rd-party integrations are paid; therefore, you'll have to pay for its services regularly.
5) Supported OS & Devices
If you choose to go for iPhone app development, then your app must be compatible with the recent and latest versions of iPhone like iPhone 6S or X. It should also support the recent and latest iOS versions, including iOS 10 to 13.
If you're choosing android app development, then there are 3 primary factors you must consider to target the maximum android user base.
– Well-known devices in the market
– Market share size of each android mobile manufacturer
– Android OS versions
Therefore, comparing the development cost factor for iOS and android, developing an android app will take longer and cost higher due to the huge segmentation in the android market.
6) UI Design
UI is a critical aspect of a mobile app and plays a significant role in a mobile app's success. The UI defines the look and feel of a mobile app. And if you want your app to be liked by your target users, it is crucial to deliver a delightful user experience.
Including images, custom graphics, animations, and several other things can eventually add up a considerable amount of mobile app development hours, impacting the overall cost to develop your mobile app.
Mobile App Testing Stage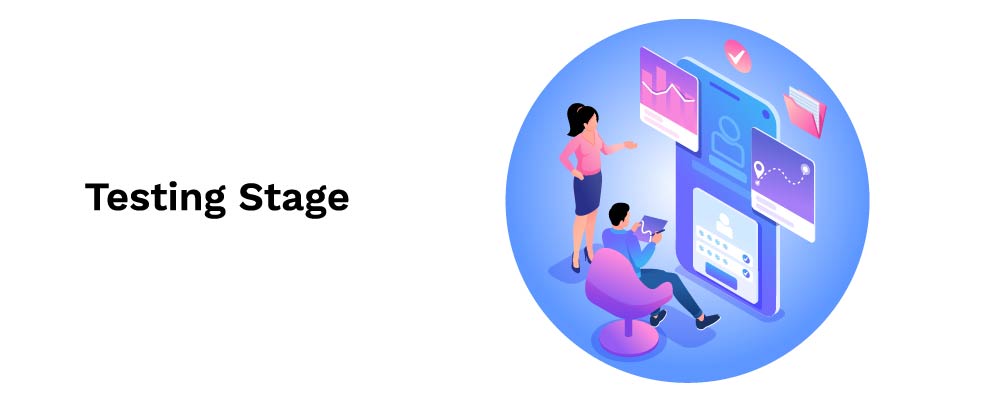 After the app development process, the testing phase is the most crucial. It is essential to test your app before launching it in the market to know whether it works properly and has a good user response. Several types of testing can be conducted; it depends on your willingness to spend and the time-duration to launch the app. Well, it is always good to go to such lengths because in the end, if your app is a failure, you lose a lot of money.
Mobile app testing ensures that your app will work seamlessly for the users. Front-end app testing accounts for 30% of the app cost, while the admin panel front-end testing costs below 15%. The approx price you can expect is between $5k – $10k.
Another great part is that it saves you money in the long run. You can launch your app with confidence and assurance that it will undoubtedly offer a great user experience.
Post-Development Stage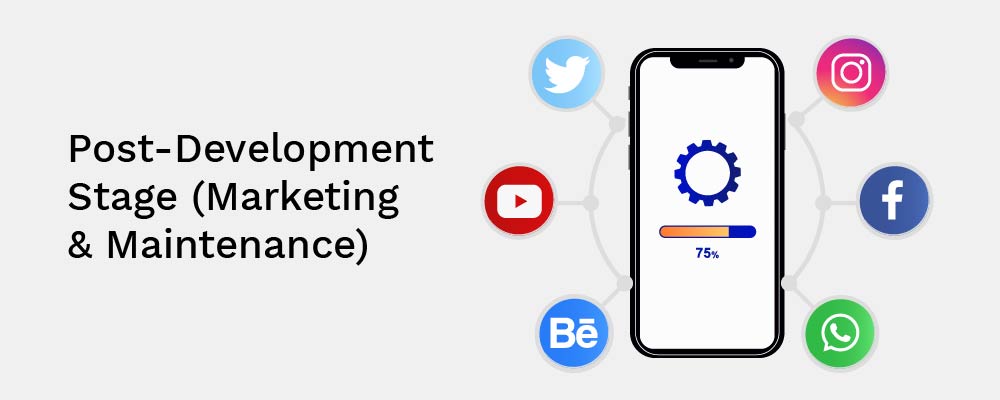 Marketing:
Well, it can take massive investment when it comes to spending on marketing and promotion expenses. All that depends on your budget. You can make less marketing expenses if your budget is less and still do a great job if you enter into the market at the right timing. After all, the right timing matters; throwing money alone is not enough.
You can market your app in several ways like:
– Social Media Platforms
– Launch Events
– Promotional Messages
– Video Marketing
– Email Marketing
– Offering Great Offers & Discounts
– Blogs, etc.
Investing some amount in marketing is beneficial for your mobile app. Because only if people know about your app, they will install it and use it. Otherwise, it will lead to a terrible failure.
Maintenance:
Once you have developed and launched your app, you are not done. Your work has just begun. You have to ensure that you retain your users; otherwise, they will uninstall your app, and your app will get doomed.
Just like a business comes with its maintenance costs, the same is with the mobile app. You need to incur several post-launch expenses to meet user demands, such as bug fixes, updation, server maintenance, user support, and legal support.
Research suggests that app maintenance can cost you around $5k to $10k after 1 year of launch. On average, it can cost you close to 20% of the original cost of your app.
Here we discussed the cost of mobile app development in general. Now, let's dive into the cost of different types of mobile app development in brief.
Cost To Build – Different Types Of Mobile Apps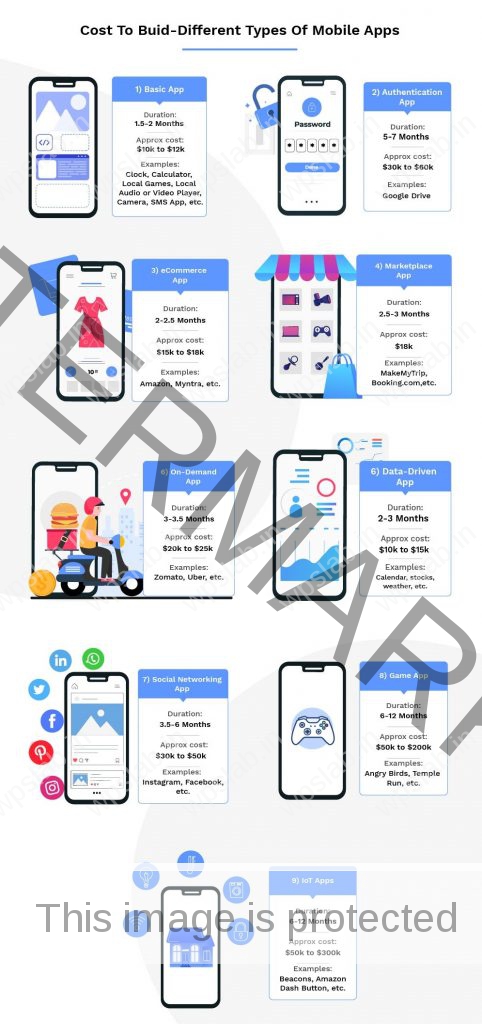 There are different types of mobile apps available in the market. We are going to talk through the estimated costs of the most common app types.
Let's begin!
1) Basic App
They are usually very concise. Users don't need web connectivity to use such apps. These apps are much demanded these days as users prefer to use apps that consume a lot of information online. Such apps typically have 6-8 screens and no back-end.
Duration: 1-1.5 months
Approx cost: $10k – $12k
Examples: Clock, calculator, local games, local audio or video player, camera, SMS app, etc.
2) Authentication App
This app requires the user to login to access the full functionality. You can include many subordinate features to raise the cost.
Users prefer to login through their social media accounts like Twitter, Facebook, etc. This is a one-step process for users to access the Authentication app.
Duration: 5-7 months
Approx cost: $30k – $60k
Examples: Google Drive
3) eCommerce App
The primary goal of such apps is to promote and sell the products via a mobile store. It includes all the regular features such as login/logout, user registration, push notification, social media, user account, etc.
The following features make eCommerce apps different from others:
– Secure payment gateway integration
– Separate product pages
– Detailed product catalogs
– Reliable check-out process
– More
The development of such apps is complex. It needs a well-planned admin panel and back-end to manage products, inventory, payments, users, orders, and more.
– Duration: 6-12 months
– Approx cost: $15k – 18k
– Examples: Amazon, Myntra, etc.
4) Marketplace App
A perfect marketplace app includes features of an eCommerce app and on-demand service app. It's an extensive version of both these apps.
These apps permit users to place orders and companies to deliver the products at the user's doorstep. Therefore, marketplace apps deal with both ends of the economy – demand & supply.
The cost of such apps is higher as it demands substantial time and effort.
– Duration: Over 12 months
– Approx cost: 18k
– Examples: MakeMyTrip, Booking.com, etc.
5) On-demand App
These apps are booming in the past few years, especially in the light of Covid-19. The reason for its demand is it fulfills the user's needs and wants.
On-demand apps function like social apps that include login and communication elements such as chat, call, etc. It also has eCommerce features like delivery, payment, product/service orders, etc.
– Duration: 10-12 months
– Approx Cost: $20k – $25k
– Examples: Zomato, Uber, etc.
6) Data-Driven App
Such apps consume and process only accurate information. Data-driven apps do not have a high demand.
These apps include extra features or an expansion of a larger software. Such apps cost you a bit more since they need some back-end work.
– Duration: 2-3 months
– Approx cost: $10k – $15k
– Examples: Calendar, stocks, weather, etc.
7) Social Networking App
The primary purpose here is to enhance the social interactions of users with others. These apps let users share information and chats.
There are several social apps like media sharing, blogs, communities, dating apps, interest-based networks, customer review apps, and more.
Cloning famous apps such as LinkedIn, Facebook, etc., won't get you success. These apps have been in the market for years and include a lot of functionalities and features.
All these brands first began with MVP or a basic version with restricted but essential features. This is the main reason behind the tremendous success of such apps.
– Duration: 6-10 Months
– Approx cost: $30k – 50k
– Examples: Instagram, Facebook, etc.
8) Game Apps
Games can be simple as well as advanced. A complex gaming app can cost you more, as you might already know. A game development cost depends on factors like AR support, social media integration, 3D graphics, global ratings, etc.
– Duration: 6-12 months
– Approx cost: $50k – $200k
– Examples: Angry Birds, Temple Run, etc.
9) IoT Apps
IoT enables users to connect the app with any equipment & physical object. All the objects, devices, or equipment associated with IoT are considered smart.
These apps are connected with devices via Bluetooth technology or WiFi to send requests or receive data.
You require to install hardware in the object to connect it with IoT. You can also use ready-made hardware or build custom hardware as you need.
Therefore, before planning to build an IoT app, you must be ready to invest in hardware. It increases the overall cost of your app.
– Duration: 6-12 months
– Approx cost: $50k – 300k
– Examples: Beacons, Amazon Dash Button, etc.
Cost To Develop An App – App Developers Options
These are the 3 options when it comes to developing an app:
– In-house Staff
– Freelancers
– Mobile App Development Company
In-House Staff
This involves recruiting a full-time employee to build an app. The idea to have a full-time available person for your app looks beneficial on the outer side, but this is 100% unnecessary. This will add to redundant costs like infrastructure, internet, utility bills, salary, etc.
Freelancers
This is the most cost-effective hiring option but not the smartest option after-all. Suppose you've decided to recruit freelancers to develop your mobile app; the first thing you'll need is to find the right talent in the market, which is challenging since you'll not know to recognize the right mobile app developer.
And suppose you found the right person, you still have to manage them individually. This will consume your ample time that could have been utilized on things such as planning & executing app marketing & promotion campaigns.
Mobile App Development Company
This is the first choice of entrepreneurs, companies, and startups. This is that middle spot between in-house staff and freelancers. Hiring an app development company helps you develop a mobile app on a limited budget and focus on things like app promotion.
In this recruitment option, you share your app requirements, and the rest is taken care of by the company, from wireframing design to app publishing on the App Store.
Cost To Develop An App – Hourly Rates
The development cost per hour varies as per the region. So, the location of the mobile app developer will determine the value of your app.
Let's take examples:
| Region | Rate (USD) |
| --- | --- |
| US & Canada | $50k-250K |
| India | $10k-$75k |
| Eastern Europe | $20k – $150k |
| Australia | $50k – $150k |
| UK | $35k – $170k |
Now you know that location plays a massive role in the app development cost. And the higher price doesn't necessarily mean assured success or superior quality.
Conclusion
Hopefully, coming to the end of this blog, you've got an idea of how much detailing requires while determining the cost of the mobile app.
The cost of app development depends on many factors like who develops the app, time-taken, platform, app type, etc. We have tried to accommodate most information necessary.
Now that you know the approximate cost to develop a mobile app in 2021, you can contact our team, and they will give you the best advice on how to begin, followed by unique ideas.